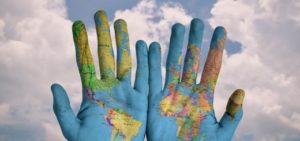 Why In Lingua Veritas? I have always been curious about what is "foreign" and different from me and fascinated by the idea of allowing communication between two or more people that do not understand one another as they speak different languages. This idea inspired my education and training, which were focused on a passionate and increasingly specialised study of languages, until my Degree in Linguistic Mediation at the Scuola Superiore per Mediatori Linguistici (SSML) of Milan and my Master in Interpreting and Translation at the SSML of Rome in 2009.
Since then, I have been dealing with INTERPRETING, TRANSLATION and LANGUAGE TEACHING as a freelance, working with ENGLISH and SPANISH. I am an ITALIAN mother tongue, but I am close to being trilingual with my second and third foreign languages.
I have always been enchanted by the sounds and peculiarities of my foreign languages, by the complementarity and influence between the latter and my mother tongue. I have combined my creative command of my Italian with the sober yet multiform style of the English language and the joyful and warm energy of the Spanish language, resulting in my own profession.
In addition, I have extensive knowledge within the fields of COMMUNICATIONS, PR and MEDIA RELATIONS, which I have always performed at an international level.