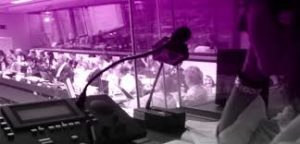 The interpreter is in a booth and translates while the speaker is delivering his/her speech
For events with a  vast and multilingual public  such as international conferences
Service description:
The interpreters listen to the speaker's speaches in a booth and, almost immediately, translate them into the target language speaking into a microphone. The participants can listen to the translated speeches through headsets. This technique allows for works to be carried out in different languages at the same time.
Simultaneous interpreting is very energy-consuming. It is therefore necessary to take breaks every 20 minutes to provide a high-quality service.
For this reason, simultaneous interpreting is not performed by just one interpreter, but by at least two for each language (each booth) who take turns without interrupting the meeting. To provide a good-quality service, interpreters need good working conditions. It is very helpful for interpreters to have as much material as possible to get prepared for the assignment (program, abstracts, slides, speeches, list of speakers): The more information are provided to the interpreter, the better the service quality will be.
Conversely, two of the factors that can have a negative impact on the quality of the service are low-quality technical equipment and speakers who read their speeches or who speak too fast.