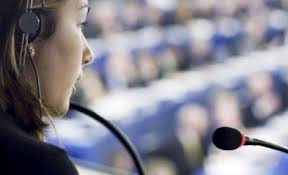 Smooth and effective communication in multilingual events
Do you need to communicate with a public that does not share your language? My job is to help you in this task
Helping people who do not speak the same language communicate requires skills and knowledge that cannot be improvised: differently from what you might think, speaking more than one language is not enough to make you an interpreter. Actually, many other skills are involved. An interpreter also needs to have excellent command of the interpreting techniques, solid general culture and a very good knowledge of the terminology pertaining to the field of each assignment. In addition, an interpreter needs to be able to tackle professionally the many unexpected situations that might occur during an assignment.
Since 2009, I have been providing interpreting services with professionalism and dedication during conferences, negotiations, presentations, trade fairs and many other multilingual events. If you are planning a multilingual event and require interpreting services, I can help you.
For a detailed explanation of the interpreting services that I offer, click on the section SERVICES – INTERPRETING!